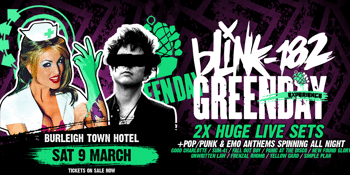 The Ultimate Blink-182 and Green Day Tribute Night
Burleigh Town Hotel (West Burleigh, QLD)
Saturday, 9 March 2024 8:00 pm
Time to party like it's 1999!!!
Australia's Number 1 Tribute To Blink 182 and Green Day are coming to
Burleigh Town Hotel
Blink 182 and Greenday together brought pop-punk to the forefront of popular music and to this day both bands remain relevant to the masses.
This show is a nonstop, hit after hit party that draws crowds of all ages and payes tribute to two of the greatest legacies in modern music.
The Blink 182 and Greenday Experience draws on all eras of both bands. The show features all the greatest hits and always leaves fans asking for more.
There will also be Pop-punk and Emo bangers spinning all night long to complete the package!
You'll hear Good Charlotte, Sum-41, Fallout Boy, Panic at the Disco, My Chemical Romance, Yellow Card, Jimmy Eat World, Frenzal Rhomb, Bodyjar, 28 Days, Unwritten Law, NOFX, Dropkick Murphys and so much more!