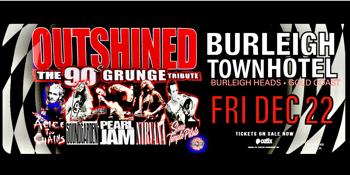 Outshined 90s Grunge Show
Burleigh Town Hotel (West Burleigh, QLD)
Friday, 22 December 2023 7:00 pm
Renowned Australian 90s tribute band Outshined, are bringing the best of 90s grunge rock to life!
The band consists of seasoned musicians, who are passionate about the music of the era. Their authentic LIVE sound, high-energy performances, and attention to detail have earned the band a solid reputation for SOLD OUT shows and continually growing their fan base.
OUTSHINED 90s Grunge Show
delivers a true grunge experience that will transport you back to the golden age of rock...
Formed in 2016/17... OUTSHINED has been connecting with Australian audiences [and beyond]. Whether you're a die-hard 90s fan of Pearl Jam, Soundgarden, Alice in Chains, Nirvana, Stone Temple Pilots, Temple Of The Dog or TOOL we've got you covered!
The band's extensive repertoire has a playlist that has something for everyone. Establishing a growing reputation for delivering authentic LIVE cover versions of iconic classics such as: "Black Hole Sun" "Even Flow" Hungerstrike" "Rooster" "Smells Like Teen Spirit"and "SOBER" to name a few, often sharing deep cuts and B-sides featuring a multitude of instantly recognizable tunes from award-winning albums; that ultimately defined a generation.
OUTSHINED 90s Grunge Show
captures the essence of the 90's grunge era, which has earned the band a solid reputation for being one of those one-off "one of a kind" live gigs... OUTSHINED has become one of the most sought-after GRUNGE tribute acts in the country.
The guys performing shows together are a must-see for anyone who is a fan of 90s music, loves the raw energy and rebellious spirit of grunge rock.
So whether you're reliving the glory days of live music with us, or discovering some of the music LIVE for the first time, join
OUTSHINED 90s Grunge Show
for an unforgettable journey back to the 90s, when life was awesome, and the music was honest, raw and unapologetically loud…