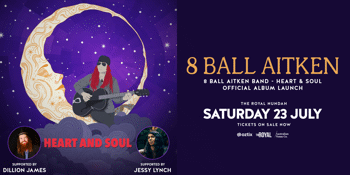 8 Ball Aitken
With special guests Jessy Lynch and Dillion James.
The Lounge (The Royal) (Nundah, QLD)
Saturday, 23 July 2022 7:00 pm
Swamp-blues-rockers The 8 Ball Aitken Band will play the official 'HEART AND SOUL' album launch gig at The Lounge, at The Royal Nundah on Saturday July 23rd. Doors open 7pm, Music from 8pm. Support acts include Jessy Lynch and Dillion James.
The 'HEART AND SOUL' recording was mostly completed in Nashville right before 8 Ball re-located back to Australia eighteen months ago. The musicians on 'HEART AND SOUL' include Grammy winning drummer/producer Tom Hambridge (Buddy Guy), saxophone legend Buddy Leach (George Thorogood & The Destroyers), Sydney soul singer Taya Chani and 8 Ball's younger brother Dillion James on Hammond organ and piano. Michael Caruana (Melbourne Ska Orchestra), Tim Carter (Hayseed Dixie) and indie singer Pepper Jane also guested on some tracks.
8 Ball toured the world for more than a decade performing his swampy-blues-rock across twenty countries to date. He's earned a loyal fanbase from his live shows and internet videos, while paying his dues as a singer, songwriter, slide-guitarist and producer.
8 Ball relocated to Nashville, Tennessee, USA in 2012 and worked for nine years with many of the best in the blues business today. 8 Ball won second place in the 2021 International New Orleans Cigar Box Guitar Festival hosted by blues woman Samantha Fish. His previous album release 'ICE CREAM MAN' hit #1 on the Australian Blues & Roots Charts in March 2021.
'HEART AND SOUL' CDs and vinyl are available now from the 'SHOP' page on 8ballaitken.com along with tour dates, news, videos, merch and more.
Get your Tickets now before this show sells out! Saturday 23 July @ The Lounge