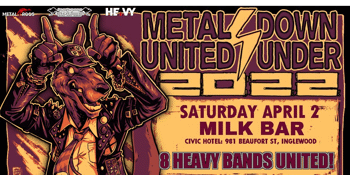 Krunch Entertainment presents
Metal United Down Under 2022
Saturday, 2 April 2022 4:30 pm
Metal United Down Under returns for another year of celebrating homegrown Aussie metal. The national event, now in it's 9th year is set to take place across Australia on April 2nd 2022 and will once again showcase the quality talent found in the Australian heavy music scene.
This year's Perth event is set to take place at Milk Bar (Civic Hotel) and will feature 8 acts across a selection of genres within the heavy music scene.
Perth's premier power metal act SILENT KNIGHT spear head the event along with groove metal veterans KIMURA and for their first time in WA, Melbourne symphonic metal band VICTORIA K.
Joining them will be Death metallers ASHEN, fuzz rockers GIANT DWARF, rising metal stars INFINITE EXILE, heavy hitters VULGARITE and alternative metal act PROGNOSIS NEGATIVE.
Tickets on sale now via Oztix.
Promoter Black-Roos Entertainment states that 'MUDU' is all about both the music lovers and the bands celebrating their day for what metal is: hanging out with their Metal brothers and sisters for a good time with great music and company! Uniting our local metal communities, working together and not against each other with the aim of creating the strongest music scene possible!
In the past 8 years, MUDU has compiled quite it's share of metal history... from bands who played their first live show to bands who make a comeback from a hiatus, as well as the bands dominating the Aussie scene who now have record deals and touring regularly overseas. So many incredible memories have been made along the journey and we can't wait to see what MUDU 2022 has to bring!