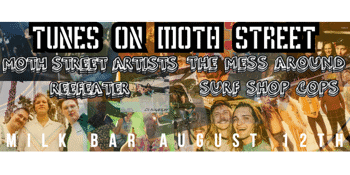 Moth Street Artists
with Surf Shop Cops, Reefeater & The Mess Around
Friday, 12 August 2022 8:00 pm
Moth St Artists return to Milk Bar on Saturday 18 June!

Come take a ride down a dimly lit street as the Moth guides you to Fortitude Valley. There will be bumps of energy and turns in melody with the final destination being that of the promised land.

Joining Moth Street Artists on the magic school bus for the first 'Tunes on Moth Street' will be infamous skate punk rockers Reefeater and pasito drinking legends The Mess Around and Surf Shop Cops.