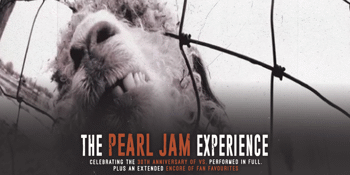 October Presents
THE PEARL JAM EXPERIENCE: Celebrating 30 years of VS.
Espy Gershwin (St Kilda, VIC)
Friday, 8 December 2023 7:30 pm
The Pearl Jam Experience
are thrilled to announce their National Tour, in celebration of the 30th anniversary of Pearl Jam's landmark album,
VS
.
Presented by
October Presents
, the tour will kick off almost exactly 30 years after the album's release, and is promising to be a thrilling and unforgettable experience for Pearl Jam fans, both old and new.
Originating in Melbourne, the band has been paying homage to Pearl Jam for over a decade, quickly establishing their authority as the truest representation of the Seattle Hall of Famers.
As part of this celebration,
The Pearl Jam Experience
will take the audience on a journey through VS. in its entirety including the unforgettable hits, 'Animal', 'Daughter', and 'rearviewmirror', as well as an extended encore of fan favourites.
For any Pearl Jam enthusiast, this show is essential to commemorating such an iconic album, and a golden opportunity to pay tribute to one of the most prominent, and influential bands of the 90's.
Tickets are expected to sell quickly.
For more information, please visit
www.octoberpresents.com
Touring September - December 2023
Friday 22nd September - Sydney, Crowbar
Saturday 23rd September - Canberra, UC HUB
Friday 6th October - Brisbane, The Triffid
Saturday 7th October - Gold Coast, The Wallaby
Friday 27th October - Geelong, The Barwon Club
Saturday 28th October - Rye, HABA
Saturday 11th November - Hobart, Altar
Friday 17th November - Perth, Amplifier
Saturday 18th November - Adelaide, Lion Arts Factory
Friday 8th December - Melbourne, The Espy