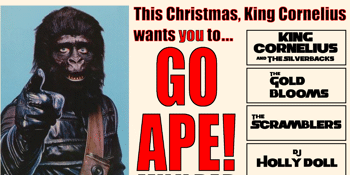 King Cornelius & The Silverbacks!
Friday, 17 December 2021 8:00 PM
"Hark! The Chimpanzees will sing... Glory to the monkey king!"

Milk Bar hosts good King Cornelius for a festive simian celebration on Friday 17 December.

It won't be a silent night with the help of our awesome friends Thee Goldblooms and fun loving combo, The Scramblers.

To top it off we have super special guest DJ Holly Doll spinning tunes all evening!

"Silver-backs, silver-backs, it's Christmas time, for the primates..."