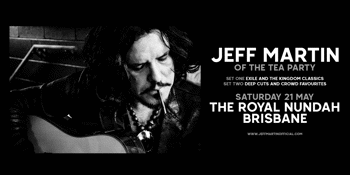 Jeff Martin
The Lounge (The Royal) (Nundah, QLD)
Saturday, 20 August 2022 8:00 pm
Jeff Martin is proud to announce his return to The Royal Nundah in May.
Jeff will deliver two 'all new' setlists – the evenings first set will showcase songs from Jeff's now legendary debut solo record 'Exile and The Kingdom', some of which have not been performed live for fifteen years.
The second set will delve deep across Jeff's other releases, taking in fan favourites and some hidden gems for good measure.