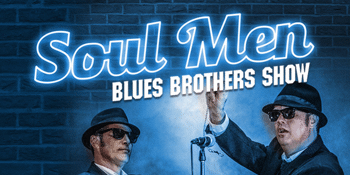 The Soul Men presents: Blues Brothers Show
Bribie Island Hotel (Bellara, QLD)
Saturday, 27 August 2022 8:00 pm
Put in your order for "Three Orange Whips" plus "Four fried chickens and a Coke" because The Soul Men – Australia's premier Blues Brothers Show is "getting the band back together" and hitting the road for their "We're on a Mission From God Tour".

The show pays homage to the music, characters & comedy of cult-film, The Blues Brothers which has become one of the most well-received comedies of all time!

Greg Hill and Brent Moetara hit the stage playing Jake and Elwood complete with black hats, suits and sunglasses, backed by a big band which includes a 4-piece rhythm section, 3 brass and the of vocal powerhouse of the incomparable Asabi Goodman who plays Mrs Murphy (aka Aretha Franklin).

The Soul Men energise the stage with a mixture of dance, laughter and the greatest rhythm and blues tunes of all-time. You'll be singing all-night long to hits including Sweet Home Chicago, Gimme Some Lovin, Everybody Needs Somebody To Love, Jailhouse Rock, Think and of course The Theme from Rawhide!

The Soul Men aren't just a tribute act; they're a time-machine to an era where dropping the bass actually meant dropping your bass guitar. You won't find an act like this anywhere so shake a tail feather and go catch them live. Not to be missed!