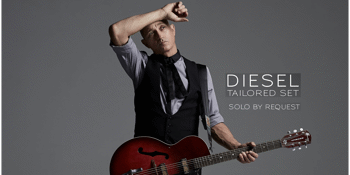 CANCELLED - Diesel - Tailored Set 2021
Beenleigh Tavern (Beenleigh, QLD)
Sunday, 7 August 2022 3:00 pm
DIESEL – TAILORED SET 2021

Following the release of his ARIA #10 album SUNSET SUBURBIA and also a greatest hits package - 30: THE GREATEST HITS, Diesel is stripping back into solo mode and heading around the country to tour DIESEL - TAILORED SET - SOLO BY REQUEST.

A show where the audience plays the main part in forming the setlist for the night - they make the song choices creating a TAILORED SET.

How it works… From a list of songs posted prior via Diesel's website (www.dieselmusic.com.au), the audience makes their song selections. The setlist for the evening then gets formulated based on these choices!

Song choices posted will span from the first album 'Johnny Diesel & The Injectors' (1989) through to SUNSET SUBURBIA (2020), along with picks from some of Diesel's favourite artists - Neil Young, Jimi Hendrix & Otis Redding and Muddy Waters to name just a few…

The idea of letting the audience 'hand pick' the songs makes for a spontaneous afternoon of carefully selected music.

With a career spanning over 3 decades, seventeen albums and a swag of ARIA awards, Diesel has the skills of a tailor to make a bespoke night of song.