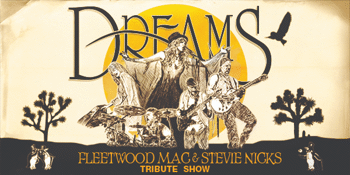 Dreams - Fleetwood Mac & Stevie Nicks Tribute Show
Beenleigh Tavern (Beenleigh, QLD)
Saturday, 2 December 2023 8:00 pm
Dreams – Fleetwood Mac and Stevie Nicks Show is headed to Beenleigh Tavern Saturday, December 2.

The show that moves your feet, your memories & your spirit!

"The Dreams Show was a breath of fresh air when it comes to Fleetwood Mac tribute shows.. these guys deliver.. Big Time! I was thoroughly impressed from start to finish.. Don't miss this show if you're a Mac fan!" Dennis Dunstan - Manager Fleetwood Mac (1981-1999)

You will re-live one of the legendary bands and performers of the seventies and eighties, and one band Australians love - Fleetwood Mac and Stevie Nicks. Featuring a well-oiled & talented group of musicians dedicated to the task of bringing this era, this sound to the stage for all to enjoy.

Great moves + harmonies + big guitar leads + all those iconic songs of this legendary band: Go your Own way + Gypsy + Edge of Seventeen + Rooms on Fire + Say you love me + Everywhere + Sara + Dreams + Seven wonders + Rhiannon + Little lies + You make loving fun + Don't stop + Little lies + Gold + Gold dust woman + Songbird + I don't want to know + Big love + Landslide + The chain + Hold me + Stop draggin' my heart around + Many more!