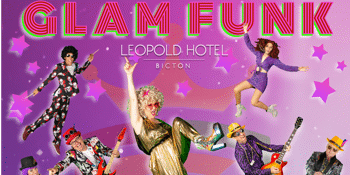 Disco & Beyond with Glam Funk Band
Leopold Hotel (Bicton, WA)
Saturday, 20 August 2022 8:00 pm
Glam Funk Band are coming to the Leopold with a sequin studded bang!
Playing music from the 70's to current hits, they are sure to make you get up and dance the night away and leave you wanting more! With a group of likeminded band members with big personalities, Glamfunk have so much fun on stage, you can't help but join in and sing along.

Audience members describe Glamfunk as a visual phenomena, with dazzling costumes, and of course, rockin' some mighty big wigs! So dust off those platforms and strap yourself in for a wild ride through the decades as we play your favourite funky dance floor faves!