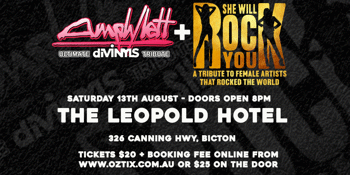 Champion Music presents
Amph/Lett (Divinyls Tribute) & She Will Rock You (Female Rock Tribute)
Leopold Hotel (Bicton, WA)
Saturday, 13 August 2022 8:00 pm
This show is full of dynamic power and talent that you would think you were experiencing the original artists.

Amph/Lett bring Chrissy Amphlett and the Divinyls band to life, celebrating and paying tribute to this ARIA Hall of Fame iconic Australian rock band from the 80s & 90s.
She Will Rock You is a high energy live tribute show to female artists that rocked the world. Re-live some of the greatest hits from artists such as
Pat Benatar, Joan Jett, Chrissy Amphlett, Blondie, Kim Wilde, Tina Turner, Madonna, Stevie Nicks and many more!
One huge night taking you through a journey back in time to when these artists ruled the music world.