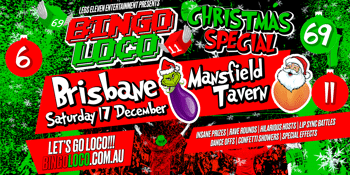 Legs Eleven presents
Bingo Loco
Christmas Edition
Mansfield Tavern (Mansfield, QLD)
Saturday, 17 December 2022 6:30 pm
BINGO LOCO - Xmas Special

We are back and ready to get Loco! So are you ready for a Christmas Bingo Rave?!

We are coming back to Mansfield Tavern for ONE massive Christmas Special this December.

If you want madness, if you want Christmas songs, and if you want festivity then we've got you covered!

Bring your very best dancing shoes and get ready for a crazy night…of bingo! But not just any bingo. A BINGO LOCOOOOOO!!!

Gear up for a night of bingo complete with bass rumbling RAVE ROUNDS, petrifying lip-sync battles, dance-offs, confetti cannons and spine-chilling special effects, comedian MCs, dancers, crazy theatrics and of course thrilling prizes; shenanigans are mandatory!

Previous prizes include a holiday to Vegas, bathtub, car, 3m teddy bear, a bag of rubbish, lawnmower and even a boat!