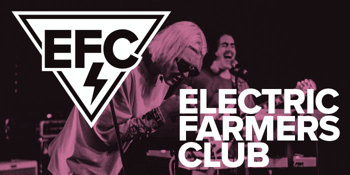 Electric Farmers Club
Kings Beach Tavern (Caloundra, QLD)
Saturday, 21 August 2021 8:30 pm
Electric Farmers Club is a fantastic live show featuring three unique indie pop acts: Sametime, Sailing In Space and Sellma Soul!

All are part of the Duckfeet Records/Manboomen/Tricycle Artist Management creative hub and their frequent musical collaborations led them to believe that they should join forces to stage a kick-ass live show that will get music fans moving and sweating again!

Sametime's Co frontman Tim Aitken has his talented fingerprints over all three acts, he's co written extensively with Sailing In Space and he's Sellma's Soul's musical director and producer.

Don't miss out on this great night of music!