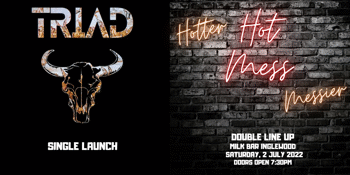 Hot Mess & Triad
Saturday, 2 July 2022 7:30 pm
*THEY'RE BACK @' Milk Bar -

Your double line up of TRIAD and HOT MESS are ready to hit the stage again on Saturday 2nd July 2022!!!

TRIAD showcases the best of grunge with Silverchair/ Nirvana/ Greenday / Stone Temple Pilots.
This time round - launching their first original single…..one day you'll say - WE WERE THERE FOR THAT!!

HOT MESS promise bangin hits all night - from the likes of Divinyls/ Transvision Vamp / Blondie / No Doubt / Icehouse …. The list goes on…. But this time round…

HOTTER / MESSIER!! DON'T MISS OUT ON YOUR TICKETS!!!!