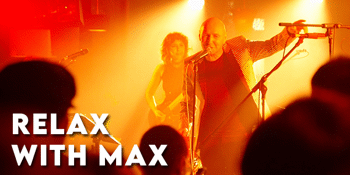 Relax With Max
Espy Gershwin (St Kilda, VIC)
Saturday, 17 February 2024 4:00 PM
Relax With Max are a ten piece Melbourne outfit formed in 1984 by band leader Max Vella. The group presents a unique blend of funk, soul and afro-beat, along with elements of R&B and gospel. Relax with Max are notorious for their high-energy live performances and their ridiculously entertaining ability to get the crowd moving. The band consists of a selection of high calibre musicians including an explosive rhythm section, percussion and a four piece horn section.


Relax with Max have developed a strong following over years of live performances, appealing to a large and diverse fan-base. The band gained a reputation for packing out venues including St Kilda's Esplanade Hotel in which they occupied a 10 year residency to packed audiences through the late 80's/early 2000's. From 2003 until 2016 Relax with Max took residency at The Night Cat Fitzroy playing to capacity crowds.


Relax with Max has performed to crowds exceeding 90,000 at the MCG in the mid 90's as well as lending support for several international artists including Wilson Picket, Maxi Priest, The Chimes and The Commitments. More recently, the group has shared the stage with Seun Kuti's Egypt 80 band at Fitzroy's 'The Night Cat'. Several of the band's past members include well-known Australian musicians Ross Hannaford (Daddy Cool), James Black (Mondo Rock/RocKwiz), Greg Ham (Men at Work), Gary Young (Daddy Cool) and Lance Ferguson (Bamboos).