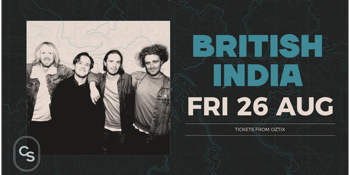 British India
Cleveland Sands Hotel (Cleveland, QLD)
Friday, 26 August 2022 8:00 PM
Today's music - blog - eat - blog world continually demands fresh blood, style too often winning over substance in the scramble to unearth the source of tomorrow's website clicks. In these conditions, it's rare to find not only a decade-old act with something still to say, but one saying it to an ever-growing audience.

So it seems fitting that five albums in, British India – the Melbourne four-piece who have built a devoted fanbase on such unglamorous concepts as quality songwriting and a rock-solid tour ethic – are releasing the best album of their 10 - year career.

Nothing Touches Me, the follow-up to 2013's ultimately triumphant but initially troubled Controller, bristles with all the energy and urgency of the band's famed early singles while further exploring the expanded ambitions of its predecessor. A true studio album – as opposed to a collection of songs played live in a studio – it is set to elevate British India into the gang of great Australian rock'n'roll groups.

Pre-Controller, Melia, bassist Will Drummond, drummer Matt O'Gorman, and guitarist Nic Wilson had battled themselves out of a funk that saw them label-less and questioning their future. Melia credits two key events with reviving their fortunes: establishing their own rehearsal room in Melbourne's north-east and signing to Liberation Music. This new partnership delivered the band their first gold single, 'I Can Make You Love Me', with the song also landing at #41 on the 2012 triple j Hottest 100, their sixth entry in the countdown over the years . Controller became British India's third consecutive album to debut in the ARIA top ten, following 2010's Avalanche and 2008's Thieves (debut album Guillotine was released in 2007).