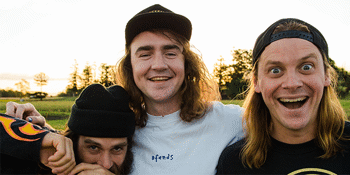 Dune Rats
With special guests Le Shiv & Cheap Skate!
Kings Beach Tavern (Caloundra, QLD)
Friday, 29 December 2023 8:00 pm
Dunies have covered some ground in 2023...

47 shows in the USA, Canada, Europe and the UK + a string of Aussie festival dates including a massive Splendour In The Grass set featuring The Angels. New music is in the works, and a trip to South Africa is imminent before they roll back into the Aussie Summer for more shows around the country including long-time favourite haunt, the Sunshine Coast at Kings Beach Tavern!!

'We've always loved being in the sunny coast, you'd say we know the pubs like the back of our hands by now and we've made some epic friends. Gonna be sick to play a show for the local crew at Kings Beach Tav!' - Dunies.

Catch the Dune Rats plus special guests Le Shiv & Cheap Skate live and loud on the Sunny Coast for their last show of 2023!