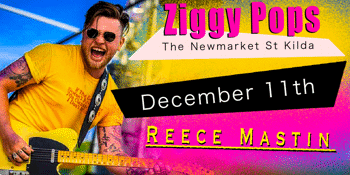 Ziggy Pops (Newmarket Hotel) (St Kilda, VIC)
Saturday, 28 May 2022 7:00 pm
After all we've come through we deserve to let our hair down and sing and dance to a good bit of old fashioned rock n roll.
Mastin and his band are playing all the songs you know and love and many many more. The music industry has suffered, but it's made us all so hyped to be back on stage, so expect to see 110% on the vibe front!!!
Ticket available now we can't wait to see you there!!
_____________________________________________________________________________________________
Important Information For All Ticket Holders
: All ticket holders must acknowledge that the venue is or may become subject to public health orders or advice providing that patrons are vaccinated, are medically exempt from vaccination, or are able to provide evidence of their Covid-19 free status prior to entering the venue. It is a condition of the booking that patrons abide with any Covid-19 checking-in or verification procedures that the venue implements to address the public health orders or advice. For more information visit https://www.ausvenueco.com.au/safe-socialising-policy/