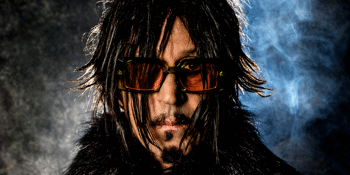 Code One & Triplespeake
Steve Balbi
Ziggy Pops (Newmarket Hotel) (St Kilda, VIC)
Saturday, 10 September 2022 7:00 pm
MELBOURNE! BALBI RETURNS TO ZIGGY POPS - FOR THE FIRST TIME IN 3 YEARS – ON SATURDAY THE 10TH OF SEPTEMBER 2022.
Accompanied by a string of exquisite songwriters and very special guests, including Pete Drummond and Maddy Bhey, good folk and foe, please welcome into the world… GRID.
Following his spell-binding appearance at the Birdsville Big Red Bash earlier this month, Balbi promises an eclectic reimagination of his diverse catalogue of songs 'n' stories – from Noiseworks, Electric Hippies, Mi-Sex, the new solo LP 'I Think I Know For Sure', and more.
GRID is Steve Balbi (Noiseworks, Electric Hippies, Mi-Sex) making noises, vocals, and guitars, Colin Coorie (Richard Clapton) on the synth, piano, organ and keys, and Pete Drummond (Dragon) playing a live-looping launchpad, BVs, cymbals & snares.
Transcending rock and pop while coalescing sentimentality and soul Balbi bespeaks Bowie and Dylan in melody and verse, exploring the heterogeneity, refinement, and dirty rotten groove of Radiohead. Be enlightened. Be inspired. See Balbi live…
STREAM THE NEW SINGLE EXTRAORDINARY ORDINARY LIFE (LIVE) HERE: https://ffm.to/extraordinaryordinarylifelive