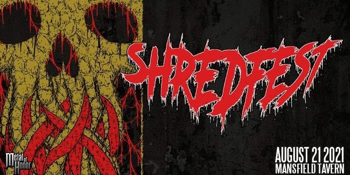 Metal Of Honour
SHREDFEST
Mansfield Tavern (Mansfield, QLD)
Saturday, 21 August 2021 11:00 am
"It's that time of year Brisbane, time for the biggest annual local metal fest in town! SHREDFEST! We have a huge festival coming to you this year from The Mansfield Tavern!

ver 30 of the hardest hitting metal acts from around the country and right here from Brisbane, bringing you the best neck chomping metal and headlined by none other than one of the biggest party bands in the country, those pirates of partymetal LAGERSTEIN who are hitting the Mansfield Tavern and capping off SHREDFEST with an hour long full stage show to get you rocking into the night!"
Bands include:
LAGERSTEIN
ESPIONAGE (vic)
TRIPLE KILL (vic)
DISKUST
TEMTRIS (nsw)
MONOLIYTH (vic)
LIVEWIRE (nsw)
PURENVY (nsw)
MOTORIZED
SYMBOLIC WEAPON
LACERATION MANTRA
AMICABLE TREASON
NUN
ODIUS
IDLE RUIN
DIRTY BREW
PISTONFIST
MAGNERTRON
LEVEL H
REGULAR GONZALES
FLESH TORRENT
PUSTILENCE
BONE MARROW
TERROR PARADE
BARRELHOUSE
KAERULEAN
OPEN CASKET
ZAGTAR
VALHALLA LIGHTS
ELEPHANT
DRAWING BLOOD
ANCIENT REMAINS
SYSTEM TRASHED
BIOLYSIS
Get in fast! Do not miss out on this massive metal party Australia!