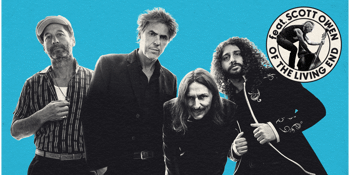 Craft Music Presents
THE WHITLAMS feat. Scott Owen (The Living End) - Coastal Tour
With Special Guest William Crighton
Cleveland Sands Hotel (Cleveland, QLD)
Tuesday, 2 January 2024 6:00 PM
Join The Whitlams as they take to the stages of picturesque beachside towns, with the soundtrack to summer they played up and down the coast in the mid 90s. Starting in Kingscliff on New Year's Day and winding down to Wonthaggi two weeks later, the legendarily high-spirited live band will be in top form after a sold out national capitals tour in October 2023.
The Whitlams four piece is joined by Scott Owen from The Living End to recreate the rollicking energy of its first three albums. Who better to rip through the double bass classics from '93 to '97 than the human powerhouse who has driven The Living End's famous rhythm section.
The distinctive slapping catgut of the double bass propelled The Whitlams onto the airwaves through the mid 90s, with their debut "Gough" in 1993, and crossover hit "I Make Hamburgers" in 1995. Together they will perform the best of "Introducing The Whitlams", "Undeniably The Whitlams" and "Eternal Nightcap". After "No Aphrodisiac" which starts with double bass and switches to electric bass in the middle, Ian Peres will take over on bass and bring the night home with more recent hits like "Blow Up the Pokies"
The Whitlams are Tim Freedman on piano and vocals, Jak Housden on guitar, Terepai Richmond on drums, and newest member, Ian Peres, on Hammond organ and electric bass.
2022
"The songs splash colours across a portrait of a lonesome, inner-city suburbia that few
others can match for original detail and authenticity.... The Whitlams have never sounded even mildly like anybody else." The Newcastle Herald