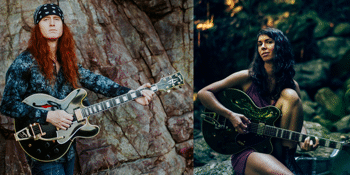 8 Ball Aitken
Old Bundy Tavern (Bundaberg, QLD)
Friday, 9 September 2022 7:00 PM
8 Ball Aitken is bringing the swamp-blues-rock party to the Old Bundy Tavern on Friday September 9th, supported by soul rocker Jessy Lynch! He's toured the world for more than a decade performing across twenty countries to date. He's earned a loyal fanbase from his live shows and internet videos, while paying his dues as a singer, songwriter, slide-guitarist, and producer.

8 Ball won second place in the 2021 International New Orleans Cigar Box Guitar Festival hosted by blues woman Samantha Fish. His album release 'ICE CREAM MAN' hit #1 on the Australian Blues & Roots Charts in March 2021.

8 Ball moved to Nashville, Tennessee, USA in 2012 and worked for nine years with many of the best in the blues business today. Now he's back with a brand-new sound, a self-produced laidback soul album 'HEART AND SOUL'. The recording was mostly completed in Nashville right before he re-located back to Australia eighteen months ago. The new album debuted at #3 on the Australian Blues & Roots Charts.