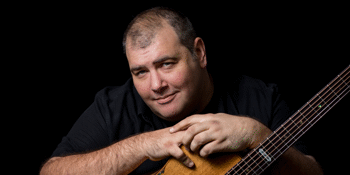 Code One Presents
Lloyd Spiegel
Ziggy Pops (Newmarket Hotel) (St Kilda, VIC)
Saturday, 9 July 2022 7:00 pm
Renowned acoustic guitar slinger Lloyd Spiegel is delighted to announce a string of shows in some favourite Aussie venues. Of course, like everyone else, Spiegel has been in virtual hibernation and is keen to hit the bandstand with a renewed energy, fire in his belly, and fronting his new trio.
Featuring trombonist extraordinaire Lisa Baird and long-time collaborator Tim Burnham on drums, the trio allows Spiegel a little bit of extra scope to bring the flavours of his albums to life in concert.
The grooves are deeper, New Orleans is in the house, and the joint will be rocking. Since it seems we're all allowed to dance now, we should take every opportunity to do so. Says Lloyd of the return to playing shows: "I've always seen myself as more of an entertainer than a musician so without audiences this last year, It's been harder to find the joy in music. That experience has renewed my dedication to performing and reminded me just how lucky I am that this is my job.
Tim and I have welcomed trombonist, singer and songwriter Lisa Baird to the show. She's featured on my album tracks and been a guest at numerous shows so it's exciting to add her talent and energy to the mix." The tour takes the trio to venues all over Victoria and NSW, with dates casually spread out over the winter. Lloyd will be playing tracks from 2019's multiple award-winning album Cut and Run, along with back catalogue and blues classics.
https://youtu.be/LMvoptYdRrQ
https://www.youtube.com/watch?v=pgqiXbnhLnw