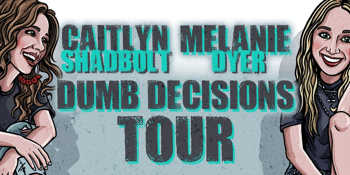 Smith Entertainment Presents
Caitlyn Shadbolt and Melanie Dyer
Dumb Decisions Tour
Berserker Tavern (North Rockhampton, QLD)
Saturday, 8 October 2022 8:00 pm
Country pop stars Caitlyn Shadbolt and Melanie Dyer are excited to announce that they will join forces for the Dumb Decisions Tour to support their undeniably catchy Top 10 smash of the same name.

They'll be heading to the Berserker Tavern, Rockhampton on Saturday 8th October
The Dumb Decisions single was released in early May and has gained wide spread airplay across streaming services and country and contemporary radio playlists including Apple, Spotify, KIX Country, Triple M Country, iHeart Country, Hot Country, ABC Country and ARN Regional Radio.
Melanie and Caitlyn have been best friends for a long time and they've made so many memories both on and off the road together.
"
It seemed really fitting to write a song about making 'Dumb Decisions' with Melanie Dyer. We have spent a lot of time together on the road and have so many memories and hilarious moments together. This is the most fun I've had writing and recording a song, and I think people will enjoy singing along to it with their best mates too! Can't wait to make some more Dumb Decisions together on this tour!"
Said Caitlyn and Melanie.
Caitlyn and Melanie share the same sense of humour and genuinely love each other's music. The tour will be full of laughs, sing-alongs and a few stories about their dumb decisions along the way.