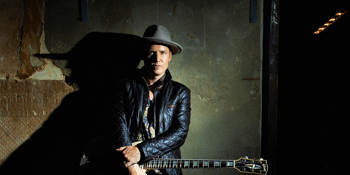 Matty T Wall
with special guests Trevor Jalla & The Whiskey Nips
Saturday, 8 January 2022 8:00 pm
From sweet blues to gritty, stomping, blues-rocking beats, and now having seven nominations in the prestigious Independent Blues Awards in the USA, a Western Australian Music Award win and three back-to-back Number One Australian Blues albums, Matty T Wall is an artist you do not want to miss. The Matty T Wall band returns to the stage more motivated and addictively electric than ever with two killer rhythm legends of the scene, Ric Whittle on drums and Leigh Miller on bass guitar.
"I'm sure everyone will love this. The guy is a picker" -Eric Gales
"I've watched as he's gained in stature to become a major league blues-rocker"-Dave Hole
"I've been aware of Matty for a while now and have been a fan long before"-Walter Trout
With special guests Trevor Jalla and The Whiskey Nips

This is an 18+ licensed event. Valid ID is required with entry.