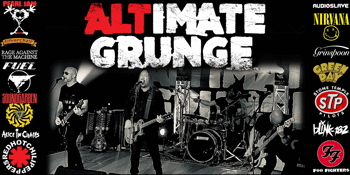 ALTimate GRUNGE - Seattle 90's Rock Show & More! - Settlers Tavern (WA)
Settlers Tavern, Margaret River (Margaret River, WA)
Friday, 18 November 2022 9:00 pm
ALTimate GRUNGE The Ultimate 90's Rock Show will take you back to the Seattle days as they pay homage to some of the greatest rock bands from the '90s ALTernative & Grunge era.
​ALTimate GRUNGE will take you back to where it all started as they play the Massive Hits from artists such as Foo Fighters, Pearl Jam, Nirvana, Soundgarden, Blink 182, Radiohead, Blur, Silverchair, Red Hot Chili Peppers, Alice In Chains, Green Day and many more, showcasing the tracks that put these artists on the map.
​Grab out your favorite flannel, chuck on those jeans and be prepared for a night of nostalgia as "ALTimate GRUNGE" deliver some Rock "N" Roll experience you'll never forget.This High Energy Show has NOT TO BE MISSED!