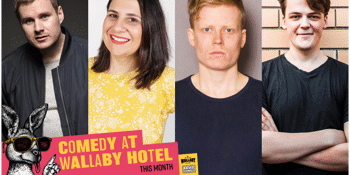 Presented by Based Comedy
COMEDY AT THE WALLABY
Damien Power, Angus Gordon, Jacob Lingard and Emma Zammit
Wallaby Hotel (Mudgeeraba, QLD)
Tuesday, 21 September 2021 7:00 PM
Comedy at The Wallaby Hotel returns on 21st September for round two!
Headlined by Damien Power
Three-time Barry nominee Damien Power is widely regarded as the most exhilarating voice on the Australian comedy circuit. After just a handful of years playing festivals, he's racked up a number of awards, nominations and rave reviews, as well as selling out rooms across the country. Damien toured his raw, assured I Can't Believe I Cared to audiences around Australia and the world in 2015. He took the 2016 festival scene by storm with Sell Mum Into Slavery, and was filmed as part of ABC-TV's Next Gen series. Damien was also a member of the "True Australian Patriots" – winners of the Director's Choice award at the 2016 Melbourne International Comedy Festival. He stars in fellow True Australian Patriot performer Anne Edmonds' new show for ABC iView, The Edge Of The Bush, had his own segment – "Power to the People" – on The Project and featured in the ABC series Fancy Boy. The 2017 Melbourne Comedy Festival saw Damien nominated for the Barry award for Best Show for the third time in as many years, and win the Pinder Prize, a grant named in honour of legendary comedy impresario John Pinder, with his show "Utopia: Live in 3D".
Featuring: Angus Gordon
Winner of the MICF Best Newcomer Award for 2017, winner of 2015's RAW and featured on ABC's Comedy Up Late, Angus Gordon's mix of dry social critique and razor-sharp punchlines has made him a favourite around the country. Surrealist, bleak, deadpan – Angus is a favourite.
"...sad and hilarious – and completely original." THE GUARDIAN
"...this is a comedian who's a bit up himself" CHORTLE UK
Plus Jacob Lingard
Jacob Lingard, a favourite of the Brisbane comedy scene but now based in Sydney, was hand picked for the 2015 MICF Comedy Zone and has opened for top international acts like Beth Stelling, Little Esther, Jimeoin. Honest, often dark, fabulous and always hilarious, we're so excited to have him back home.
Hosted by Emma Zammit
Emma Zammit began her standup comedy career in early 2008 after her sister decided it was time to move her one liners out of the lounge room and enrolled her in a standup comedy writing course for the sake of family harmony. She's an award winning act, MICF Comedy Zone feature with sold out solo shows in Sydney and Brisbane under her belt.