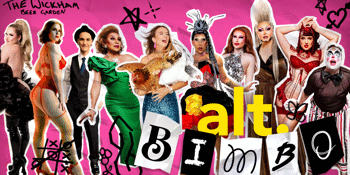 The Wickham & alt.
alt.BIMBO
The Wickham (Fortitude Valley, QLD)
Saturday, 9 December 2023 7:00 PM
Join us this December at The Wickham for a Y2K pop extravaganza like no other!

Filled with queer retrospectives, diverse talent, and a whole lot of high energy fun. This time around with a cast fiercely focused on afab, non-binary, and trans talent.
The 'altimate' throwback party that's all about celebrating femme power and reclaiming the naughties in a way that will make patriarchy shake in its boots!
From Britney to Christina, Janet, Lil Kim, Paris & Lauren Hill get ready for a high-energy femme extravaganza that'll have you dancing like it's 2003!
Stay tuned for the full cast announcements and which charity we will be raising funds for!
So go grab your Motorola Razr, your frosted eyeshadow and butterfly clips. Throw on your juicy tracksuit, your von dutch hat and C U @ BIMBO
Saturday 9th December The Wickham Beer Garden