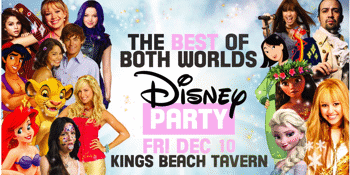 Best Of Both Worlds Disney Party
Kings Beach Tavern (Caloundra, QLD)
Friday, 10 December 2021 9:00 pm
THE BEST OF BOTH WORLDS DISNEY PARTY HITS CALOUNDRA THIS DECEMBER!

This is what dreams are made of! Get your best belting voices ready because The Best of Both Worlds are hosting a Disney Party!! Join us for a night of music from the best of the classic Disney movies mixed with your favourites from the Disney Channel! + all your fave pop music from past Disney stars!!

FRIDAY DECEMBER 10
KINGS BEACH TAVERN
CALOUNDRA QLD
DOORS 9PM 18+

⭐︎⭐︎⭐︎⭐︎⭐︎⭐︎⭐︎⭐︎⭐︎⭐︎⭐︎⭐︎⭐︎⭐︎⭐︎⭐︎⭐︎⭐︎⭐︎⭐︎⭐︎⭐︎⭐︎⭐︎⭐︎⭐︎⭐︎⭐︎⭐︎⭐︎⭐︎⭐︎

Expect to hear tunes from: Hannah Montana ・ High School Musical・The Lion King ・Frozen ・HSMTMTS ・Shrek・Hamilton・Moana ・Selena Gomez ・Aladdin ・Victorious・ Olivia Rodrigo・Hairspray・The Jonas Brothers ・The Little Mermaid ・Demi Lovato ・Lizzie McGuire ・ Mulan ・The Descendants ・Mary Poppins・Lilo & Stitch・Teen Beach Movie・Coco・ Ariana Grande ・Beauty and The Beast ・Dove Cameron・Lemonade Mouth・Mamma Mia・ Miley Cyrus ・Camp Rock ・ Cinderella・Ashley Tisdale ・Pocahontas ・Kim Possible ・Enchanted・Jesse McCartney ・Britney Spears ・The Cheetah Girls ・ Justin Timberlake ・Nick Jonas ・Tangled ・The Jungle Book ・ Hilary Duff ・ The Emperors New Groove ・Hercules ・Christina Aguilera・ Vanessa Hudgens + heaps more!