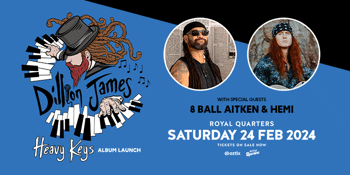 Dillion James
Heavy Keys Album Launch
Royal Quarters (Nundah, QLD)
Saturday, 24 February 2024 7:00 pm
Wind back the clock and turn up the funk dial. Dillion James is releasing his new album 'Heavy Keys', which is an energetic blues album that pays tribute to the music of New Orleans and the Mississippi, however written from an Australian perspective and wait for it…. sung in an Aussie accent.
Dillion James has been pumping life into the Brisbane live music scene for two decades with his party-centric music and performance style. Whether holding the spotlight in his own right or slotting in as a session musician, he is also renowned inter-state and overseas as a multi-talented, multi-instrumental artist. Dillion's dexterous craft involves playing bass lines and melody lines simultaneously, as Hammond Organ, piano, and wah-clav textures chime in to support his growling bluesy voice.
The Dillion James Band consists of some of Brisbane's up-rising talent, with drummer 'Jacob Petersen' (Steele Syndicate), and guitarist 'Matthew Beagley' (Dishpan Hands). The group is rounded out by north-side veteran saxophone duo 'The Joyner Jazz Horns'.
The album Heavy Keys has been 4 years in the making and predominantly draws upon Dillion's experiences in New Orleans. Several songs are co-written with an older brother and string-shredding larrikin 8 Ball Aitken, who will also accompany Hemi and Norman Baquiran to raise the curtains for the evening.
Entrants will receive a free signed copy of Heavy Keys on CD or USB.