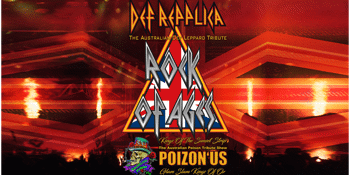 Free Entry!
Rock of Ages
Featuring Poizon'Us & Def Repplica
Wallaby Hotel (Mudgeeraba, QLD)
Sunday, 26 September 2021 2:30 pm
ROCK OF AGES FEATURING DEF REPPLICA & POIZON'US THE AUSTRALIAN POISON TRIBUTE SHOW


Def Repplica are one of the hottest tribute bands in Australia & Def Repplica captures the look, energy, and sound of Def Leppard's live performances from the 80s, especially the Hysteria and Pyromania eras.

Poizon'Us The Australian Poison Tribute Show is Australia's answer to Poison themselves and the one & only genuine Poison Tribute Show in the Southern Hemisphere, featuring Bret, CC, Rikki & Bobby. As featured on Foxtels The Tribute Show, it's Nothin But A Goodtime!