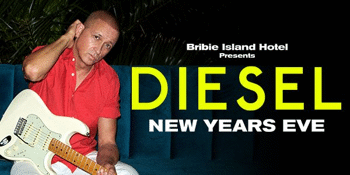 New Year's Eve ft. DIESEL
With Special guests: Good Will Remedy
Bribie Island Hotel (Bellara, QLD)
Sunday, 31 December 2023 8:00 pm
Ring in the New Year with a bang at Bribie Island Hotel as Australian Rock Icon, Diesel hits the island for an incredible live New Years Eve show!

Get ready for an action-packed night with a sensational music lineup that'll keep you dancing until the clock strikes midnight, headlined by Australia's greatest success stories, American-born Diesel performing live and loud with his band.

In 2017 Diesel celebrated 30 years "off the bus" landing in Sydney in 1987 after a 3-day bus journey across Australia, launching into 9 shows per week - the rest is history. With over thirty-five singles, sixteen albums, 6 ARIA awards,1 million record sales, 100 million streams, gazillions of video views plus a staggering 4,000 live performances under his belt, Diesel is the real deal - a career artist, master of his craft and journeyman of music.

Diesel has blended styles to come up with a truly unique sound, punctuated with his distinct guitar playing and vocals. This is one show not to miss!

Head down early and catch Americana-inspired band Good Will Remedy opening up the night from 8pm! Good Will Remedy (GWR) play Country-Kissed Rock 'n' Roll the old-fashioned way - with songs you will take to your heart – together 6 years with 5 album releases (and 1 in the can) – GWR are a band you're gonna wish you had discovered sooner...

The party doesn't stop there, dance into the new year with retro rock & 70's disco party band Rockgodz n Mirrorballz!

Join us on Sunday, December 31st, for an electrifying New Year's Eve celebration at the breathtaking Bribie Island Hotel.

Don't miss out on this unforgettable evening of music and fun as we welcome 2024 in style!