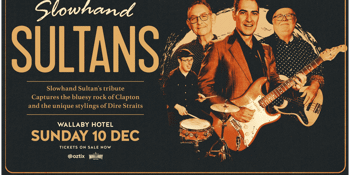 Slowhand Sultans
Wallaby Hotel (Mudgeeraba, QLD)
Sunday, 10 December 2023 3:00 pm
Slowhand Blues Band is bringing the best of Eric Clapton and Dire Staits to Wallaby Hotel this December!

A Blues show including classic blues tracks from bluesmen who strapped on the Fender Strat – with a focus on Eric Clapton.

Eric Clapton is a giant in the world of blues music. A titan of the guitar, he stands tall amongst the very best of guitarist/vocalists. The days are long gone when you can see Eric in an anything smaller than overseas arenas –but you can still experience the thrill of his music right here in Australia with the Slowhand Blues Band Show.

The Slowhand Blues band features the talents of 2 masters of the stratocaster – Tim Gaze and Mick Melit.