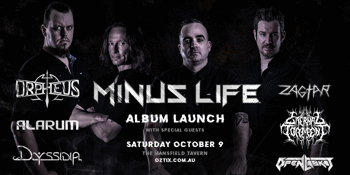 MINUS LIFE Album Launch 2021
Mansfield Tavern (Mansfield, QLD)
Saturday, 9 October 2021 3:30 PM
MINUS LIFE
formed in 2002 with the common purpose to create a brand of extreme music, that funneled the essence of their influences, but had its own unique sound. The band quickly rose to become one of the biggest metal bands out of Brisbane touring nationally.
After an eleven-year hiatus, MINUS LIFE returned to the live scene with sold out shows and delivered a devastating set at Brisbane's premier heavy festival - Dead of Winter. MINUS LIFE cemented their place in the Australian heavy music scene with Eternal Urban Megacide and single release Manipulation of the Masses. In 2021 MINUS LIFE return to the stage with a NEW ALBUM and hungry to deliver a crushing new performance. Featuring material from their forthcoming album, the time has come for the new incarnation of MINUS LIFE to rise once more.
Joining MINUS LIFE will be an all-star interstate line up & local crushing bands.
1 of 3 interstate supports ORPHEUS OMEGA will hit the stage with their aggressive classic melodic death metal, blending catchy hooks & melodies with crushing riffs. ORPHEUS OMEGA have supported multiple international acts & gained a very strong fan base in Australia & overseas.
Melbourne's Prog thrash legends ALARUM return to Brisbane on their "Circle's End" tour. ALARUM are a pillar of Australian metal and fan favorite for many years. If you love technical metal with blistering solos, pummeling double kicks, harsh aggressive vocals, then ALARUM are a band not to be missed.
Adelaide's own prog metallics DYSSIDIA bring their world class sound to Brisbane as part of their "Costly signals tour". DYSSIDIA have crafted a unique sound combining bone crushing riffs with rich harmonies, soaring vocal melodies and brutal growls. Be sure to catch their set!
3 other local acts have been hand-picked to start proceedings.
Eternal Torment, Zagtar & Open Casket will join this huge event making it one of Brisbane's biggest line ups to come together for one night. This is definitely a show no metal fan should miss!!!