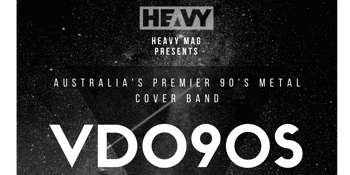 Heavy Mag
POSTPONED - Vulgar Display Of 90's
Mansfield Tavern (Mansfield, QLD)
Friday, 24 September 2021 8:00 PM
In what is becoming an all too familiar occurrence in modern music, another scheduled live performance has had to be postponed, with the victim this time being the Vulgar Display of 90s concert extravaganza that was due to hit the Mansfield Tavern in Brisbane on September 24.
With half of the band living on the wrong side of the border, they thought it better to make the tough call a couple of weeks out from the show and focus instead on rescheduling the performance until later this year or early next.
The band has expressed their disappointment but promise to nail down even more of your favourite 1990s era metal tracks for when they are allowed back into QLD.
For new dates and up to date information about the band visit https://www.facebook.com/VDO90S
Born out of lockdown but raging with the fires lit in the 1990s, Vulgar Display of 90's is the ultimate tribute show to the music that has moulded a generation of metal lovers.
Covering bands such as Slipknot, Machine Head, Pantera, Deftones, Rage Against The Machine, System Of A Down, Korn, Tool, Refused and Sepultura, Vulgar Display Of 90's plunges you fist first back into the sweaty and pit stained music of your youth in an 80-minute display of power that dares you to not get nostalgic.
Joining them for a night of riff filled head banging are
Beast Machine
& local thrash legends
ODIUS!!