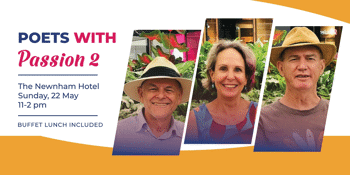 Poets with Passion - Jen Compton and Tom Stodulka
Poets with Passion
Ocean Reeve as MC and Stephen Lloyd Boundy as guest poet
The Newnham Hotel (Upper Mt Gravatt, QLD)
Sunday, 22 May 2022 11:00 am
Poets with Passion 2 - an event for those who love easy-to-understand poetry that speaks to the soul. This is your invitation to be immersed in a session of feel-good poetry. Be moved by words that inspire, soothe and calm.

Join these author-poets, Jen Compton, Tom Stodulka AM and Stephen Lloyd Boundy for a morning of sharing and inspiration. Buffet lunch included in the ticket price.

Tickets available until 21st May, 10:00AM.