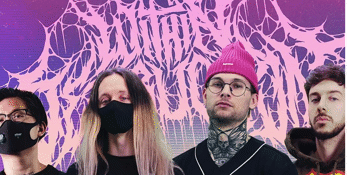 Beer Deluxe Albury presents
Within Destruction (EU) 'Yōkai' Australian Tour
Plus Special Guests: Signs Of The Swarm (US), Teeth + special guest local
Beer DeLuxe - Albury (Albury, NSW)
Tuesday, 14 June 2022 7:00 pm
Europes Within Destruction was established as one of the strongest and leading acts in slamming
deathcore community with the releases VOID (2016) and DEATHWISH (2018). Now they're back with their brand new album "Yōkai".
The band took a fresh approach to music with influences from more mainstream genres like metalcore and trap while still sticking to their recognisable heavy defining sound. Cherry on top of Yōkai are the unexpected guest features and aesthetic Japanese theme.
_____________________________________________________________________________________________
Important Information For All Ticket Holders
: All ticket holders must acknowledge that the venue is or may become subject to public health orders or advice providing that patrons are vaccinated, are medically exempt from vaccination, or are able to provide evidence of their Covid-19 free status prior to entering the venue. It is a condition of the booking that patrons abide with any Covid-19 checking-in or verification procedures that the venue implements to address the public health orders or advice. For more information visit https://www.ausvenueco.com.au/safe-socialising-policy/
The band will be bringing 'Yōkai' to Australian shores this June bringing along their American friends in Signs Of The Swarm, who recently caught the ears of metal fans all over the world with their brand new album 'Absolvere'.

Joining the bands on the tour representing Australia is Sydney's Teeth!