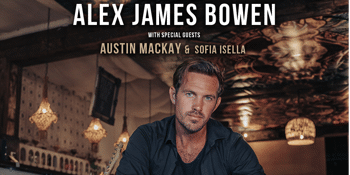 New World Artists presents
Alex James Bowen for One Night Only
Supported by Austin Mackay and Sofia Isella
The Lounge (The Royal) (Nundah, QLD)
Friday, 12 November 2021 7:00 pm
The mercurial ALEX JAMES BOWEN possesses a raw lyrical outlook with a refined sensibility. He is a performer like no other, an enigma!
Alex's magnificent and unique vocals burn with passion, encompassing a depth of grace and power likened to Bruce Springsteen, Matt Corby and Caleb Followill (Kings Of Leon).
Known and loved by audiences

along the QLD and NSW Coastline

, Alex intrigues with a genuine spirit, embracing the human connection.
A man in touch with the dislocated world we now live in, who is not afraid to address authentic feelings.
His philosophy focuses on the positives in life, unbridled connections, and inclusion.
His songwriting

style

fuses emotive rock, pop, soul, and indie-folk into an impressive repertoire delivered with an amazing vocal range.
An accomplished musician and skilled guitarist of notable ability, Alex James Bowen has drawn comparisons to John Mayer, Kevin Parker, Plini Roessler-Holgate, and Gary Clark Jr.
AJB's performances are a truly captivating live experience.
SPECIAL GUESTS for these shows are : Austin Mackay – who dazzled on the recent sold out Road Trip events (with good mate AJB guesting on guitar) at NQ Caloundra and Laneway Marketta and will perform his latest single 'Without You'- Austin is a force to be reckoned with.
LA raised now Gold Coast based musician Sofia Isella stunned audiences at the 2021 Caloundra Music Festival. Her set falls somewhere between Kate Bush and Queen and was made all the more dramatic by the electrical storm surrounding her. Be early for this one !
@alexjamesbowen
@austinmackaymusic
@sofia_isella