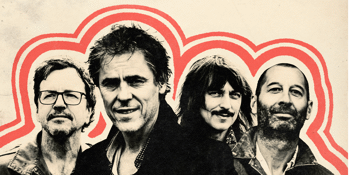 The Whitlams
Kings Beach Tavern (Caloundra, QLD)
Thursday, 17 February 2022 8:00 pm
The Whitlams play their very first full band show in two years in Caloundra when they open the "Gaffage and Clink 2022" tour on Thursday 17 February.
After rocking the recent festival as a three piece, they return with the full band and a night enlivened by new songs from their first new album in 15 years, "Sancho", out on January 28.
They will play their usual rambunctious set featuring a broad selection of tunes from their six Platinum and Gold albums, including classics "No Aphrodisiac" and "Blow Up the Pokies".
_____________________________________________________________________________________________
Important Information For All Ticket Holders
: All ticket holders must acknowledge that the venue is or may become subject to public health orders or advice providing that patrons are vaccinated, are medically exempt from vaccination, or are able to provide evidence of their Covid-19 free status prior to entering the venue. It is a condition of the booking that patrons abide with any Covid-19 checking-in or verification procedures that the venue implements to address the public health orders or advice. For more information visit https://www.ausvenueco.com.au/safe-socialising-policy/