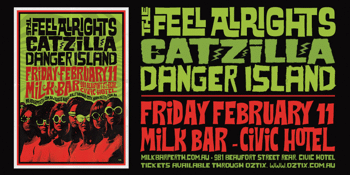 THE FEEL ALRIGHTS, CATZILLA & DANGER ISLAND at Milk Bar
Friday, 11 February 2022 8:00 PM
Shout! Shimmy! Shake! for a wild night of Beat, Garage, Psych and Surf at Milk Bar.
Playing fuzzed-up, original, 60s-inspired tunes, CATZILLA have toured Japan twice, with a main-stage set at Tokyo's legendary "Back From The Grave" Halloween Ball. This is super-catchy, gogo rock n roll! The dapper Feel Alrights are rock n roll upstarts that pack a real punch. With a set of amped-up 60s classics and all the moves, this is dance floor dynamite! Danger Island bring a groovy tiki-twist to the night, with their cool 60s surf tunes and hot instrumentals.
This is the kind of thing your parents warned you about... if you're into wild 60s sounds, you need to be at this gig!

This is an 18+ licensed event. Valid ID & proof of vaccination is required for entry.