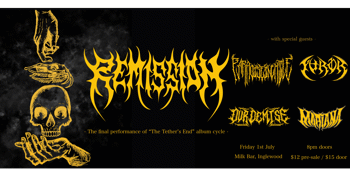 Remission
with Paradise In Exile, The Furor, Our Demise & Mariana
Friday, 1 July 2022 8:00 pm
Join Perth's premier thrashing melodic death metal band Remission, as they bring to a close their three year tenure of supporting their acclaimed debut album, The Tether's End. As the band prepares for the release of a brand new album, they mark the closing of this chapter with a gathering in the heart of winter alongside some of the most notable names the city has to offer.

Remission will be joined by the talents of a mixed palate of their favourite Perth acts. Opening the show will be Fremantle based trio Mariana, offering a heavy, riff-soaked set of captivating Instrumental metal. Fellow youngsters Our Demise follow suit to crush, with heaving breakdowns, hellish vocals and songs crafted with finesse well beyond their years. Hell hath no fury like The Furor, and the one-man purveyor of armageddon will be bringing his infamous brand of blasphemy to the masses. A spectacle not to be missed, his diabolical onslaught of Black/Death metal will leave you in awe. Main support for the night will be Paradise In Exile, who have recently reformed to bludgeon crowds with their filth-laden style of deathcore.

Closing out the night, Remission will be playing a set that includes both old and new - favourites from The Teher's End, as well as premiering a song off their new album for the very first time. A flurry of scorching riffs and solos, white hot drums and bellowing vocals await at the end of this night to remember.

We welcome you all to be a part of the final chapter of The Tether's End. Let's make it a special one.