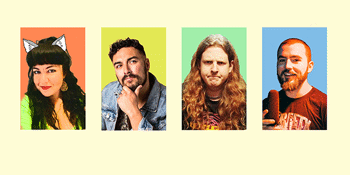 Right Here, Right Meow Standup Comedy Tour
Reef Gateway Hotel (Cannonvale, QLD)
Tuesday, 16 August 2022 7:30 pm
Right Here, Right Meow Standup Comedy, coming to The Reef Gateway at Airlie Beach!

Four comedians, one night: this show has probably the best ending of any show, ever.
Our host is Daniel Holt, fresh from the British Invasion shows at Melbourne International Comedy Festival, as well as the Best of British shows for Sunshine Coast Comedy Festival.
Support acts are Kody McLachlan, a rising star on the local comedy scene, and Peter Dahms, who won the Townsville heat of the Raw Comedy competition this year.
Headliner is Anna Brennan, who has performed at well over 100 standup comedy shows, including a sold out Queerly Beloved show at the Melbourne International Comedy Festival last April. Anna is also an award winning comedic playwright and children's book author. She has written a new show she wants to take on the festival circuit in 2023 and this is the very first run of it.
Come support local talent, have a wine, have a giggle, and enjoy a night out without the kidlets, because there's too much adult content for tiny ears!