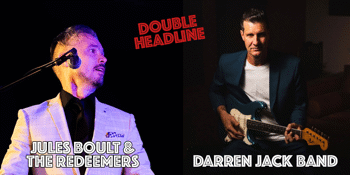 Code One Presents
Jules Boult & The Redeemers / BLUES POWER - Featuring Darren Jack and Simon Kinney -Lewis (Double Header)
Ziggy Pops (Newmarket Hotel) (St Kilda, VIC)
Friday, 10 June 2022 7:00 pm
Jules Boult & The Redeemers: Jules Boult is an award-winning blues singer, songwriter, multi-instrumentalist and recording artist. Jules' musical career has taken him across Australia, the United States and Europe. Since 2011 he has released five albums to critical acclaim and been awarded a coveted Australian Blues Music Award.

From 2015 Jules has toured the USA annually, from New Orleans to New York, via the Mississippi delta, performing, collaborating, and recording with prominent musicians, producers, and luminaries. Described as a charismatic storyteller and raconteur - his music remains true to the blues tradition – from New Orleans to the Mississippi delta. His effortless demeanour, humour and performance style has been closely linked with that of the genre's legendary predecessors. This promises to be an unforgettable performance that all music lovers will enjoy!

In His Own Words As a performer and songwriter today, I am always reaching back in order to look forward. Reaching back to what? Well, the blues I guess – those songs from turbulent times that still resonate with people today. Whether jazz, blues, country or folk – I care little for the distinction – it has always been a case of nuance for me. I also continue to draw upon the seminal experience of hearing real live jazz and blues – played in our childhood home – which has fuelled my hunger to explore, create and develop… Our family history ensured we had a certain level of immersion in music – and this did include formal training.

Darren Jack: Multiple award-winning Australian Blues musician Darren Jack has been electrifying audiences with his signature powerhouse Rock 'n' Blues and original music for over twenty years. Darren first fired up the Blues scene as the driving force behind award-winning band Third Degree which introduced a legion of Blues enthusiasts to his powerful vocals and exceptional artistry on the guitar. After six years fronting the band, Darren ventured out as a solo artist under the name Darren Jack . For the past 13 years he has collaborated with some of Australia's finest musicians, touring throughout the country thrilling audiences with his passionate performances and proving why he is regarded as one of Australia's top Blues musicians.

In 2012 Darren Jack released his fourth solo album "Better Place". Featuring eight original tracks and a more refined approach to his powerful vocals, he experimented across genres in this album while retaining his true authenticity to the Blues. His relentless efforts and maturity as a songwriter were rewarded that year when the album swept up five awards at the 2012 Australian Blues Music Awards, including Best Album of the Year. Further success and recognition continued when he won the Band Category of the Sydney Blues Challenge 2012 and was selected to represent Sydney in the International Blues Challenge in Memphis, Tennessee in 2013. Darren Jack received outstanding responses to his powerhouse trio... Jack also took out the Solo/Duo category in 2014 and represented Sydney as a solo artist in 2015 in the International Blues Challenge.

Darren Jack has played alongside some his most important artistic influences, opening for and sharing the stage with artists such as: Robert Cray (USA), Jimmie Vaughan (USA), Canned Heat (USA), Ford Blues Band (USA), George Thorogood (USA), Chris Cain (USA), Andy Just (USA), Long John Baldry (UK), Tyrone Vaughan (USA), Kevin Borich, Ian Moss, Jeff Lang, Phil Emmanuel, Dave Hole, and Chain. Darren Jack has appeared in most major Blues Festivals in Australia, including: East Coast Blues Festival - Byron Bay, Great Southern Blues Festival - Narooma, Thredbo Blues Festival, Woodford Folk Festival, Australian Blues Music Festival - Goulburn, Southern Blues and Roots Festival - Hobart, Gympie Music Festival, Cross Roads Festival - Central Coast, Manly Jazz Festival, Blues on Broadbeach - Broadbeach, Bridgetown Blues Festival W.A. & The Forth Valley Blues Festival Launceston, Wangaratta Jazz and Blues Festival and the Sydney Blues and Roots Festival, Mitchell Creek Rock n Blues Festival, Girrakool Blues Festival. As one of Australia's leading Blues musicians Darren Jack is a strong contender on the Rhythm and Blues Festival and gig circuits both Band and Solo Acoustic.