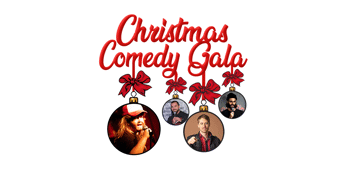 Reef Gateway Hotel presents
Christmas Comedy Gala
Reef Gateway Hotel (Cannonvale, QLD)
Monday, 4 December 2023 7:00 pm
Hey HO HO HO! Let's go...
Catch the cream of the QLD comedy scene with this December's Christmas Comedy Gala. The perfect 18+ night out to celebrate the silly season.
Bring your workmates, your mum...whoever. There'll be drinks flowing, jokes cracking and a grown-up version of the 12 Days of Christmas song.
Three male comedians and a drag king walk into a bar....what happens? Come along and find out.
Headliner
Shayne Hunter
has been crushing onstage for over a decade. In 2010 he was selected for the prestigious
Melbourne International Comedy Festival
Comedy Zone. He has toured every capital city in Australia, plus South East Asia, Malaysia, Singapore, Myanmar and Thailand as part of
Magners International Comedy Festival
. In 2020 Shayne started producing his own original, wild and fast paced show
Crowd Control
, where eight comedians compete against each other to see who can do the funniest crowd interaction. This birthed Shayne's reputation as one of the best crowd work comedians on the circuit.
"Shayne Hunter is an Australian comedy maverick. Intellect in disguise, Shayne's smart, poignant and socially aware comedy pushes boundaries in pubs, clubs, arts centres - any setting is a suitable backdrop for his biting, big-laugh perspective. Don't miss Shayne's thoughtful, often manic comedy. It can be vicious, it can be raw, but it's always hilarious.
- Josh Armstrong, Promoter at BASED Comedy.
Check Shayne out here:
https://www.youtube.com/watch?v=8G36UuNXOrw
Host
Anna Brennan
and her Drag King alter ego
Bruce Hwy
have been telling their raw and anecdotal brand of storytelling onstage for ten years. Anna has produced and performed at hundreds of comedy shows; including a ten performance run of her solo show
Tinderella
at this year's
Melbourne International Comedy Festival.
"She's supremely likeable, with a flair for the physically comic flourish. When she's in full flight Brennan is a wonder to behold."
Kate Mulqueen- ARTShub.
Bruce Hwy
is on a mission to smash negative bogan stereotypes. He's the loose yet lovable mate we've all got, and feel the need to warn our posh friends about. Bruce Hwy hit the standup scene in April this year and has just launched his debut parody song
Marshamallows in the Fire:
https://www.youtube.com/watch?v=1AyCuOY6Uxs
Kody Maverick
is a fresh, friendly face on the comedy circuit who had the privilege of performing at this year's
Melbourne International Comedy Festival
. He was raised by a single mum and will be your sister's new favourite comic in no time.
Max Leishman
is an emerging talent who gets away with a lot onstage because audience's can't help but like him. He came runner-up in the 2022 S
unshine Coast Comedy Festival's Laughable
competition and is definitely one to watch.