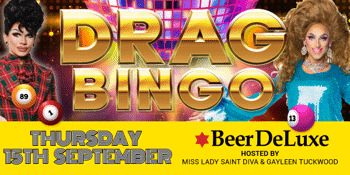 Venom Vipers Entertainment and Productions
Drag Bingo
Miss Lady Saint Diva & Gayleen Tuckwood
Beer DeLuxe - Albury (Albury, NSW)
Thursday, 15 September 2022 6:00 PM
Miss Lady Saint Diva returns to Beer Deluxe Albury for her Drag Queen Bingo with a Twist & Tuck DISCO BINGO edition!!!
With all your classic DISCO songs featuring Dianna Ross, Boney M, ABBA and more!!
She will be joined by a very special guest, the fabulous Gayleen Tuckwood!!
Get ready for a night you will never forget...
⭐️ Doors open at 6pm
⭐️ Drag Bingo starts at 7pm
⭐️ Tickets are limited, BOOK TODAY!
⭐️ Ticket price includes entry, bingo book, and raffle
⭐️ Lots of prizess up for grabs
⭐️ 18+ Event