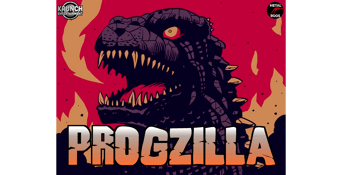 Krunch Entertainment presents
Progzilla
ft. Jamart, Ashen Road, Daniel Wiggins Group, Primrose Path, Project Alchera & Consentium
Saturday, 20 August 2022 6:00 pm
PROGZILLA ATTACKS!

Krunch Entertainment presents a night of prog rock featuring some of the best up and coming progressive rock acts in Perth. 6 bands showcasing music of a wide variety of different sounds, styles and musical tastes.

Saturday August 20th at Milk Bar (Civic Hotel, Inglewood). Doors at 6pm

Featuring an eclectic mix of bands including JAMART, ASHEN ROAD, DANIEL WIGGINS GROUP, PRIMROSE PATH, PROJECT ALCHERA & CONSENTIUM.