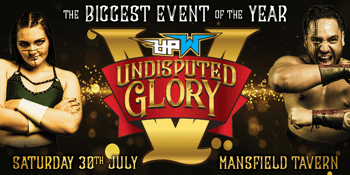 UPW Undisputed Glory V
Mansfield Tavern (Mansfield, QLD)
Saturday, 30 July 2022 6:00 pm
It's time for our biggest event of the year, Undisputed Glory V!
Every championship is on the line as heated rivalries come to a head.
Two hours of family friendly entertainment, food, drinks, merchandise and lots of giveaways!
Come see hard hitters, high flyers, and huge characters in a night of action-packed entertainment you will never forget.
Doors open at 6pm with event starting at 7pm.
V.I.P Platinum
- Stage side seating
- Meet & Greet with UPW Wrestlers (6:15pm- 6:45pm)
- Live Video Feed
- Wrestlers out to watch the show with you.
- $10 Food & Drink Voucher
V.I.P Gold
- Front Row Seating
- Meet & Greet with UPW Wrestlers (6:15pm- 6:45pm)
V.I.P Second Row
- Second Row Seating
- Meet & Greet with UPW Wrestlers (6:15pm- 6:45pm)