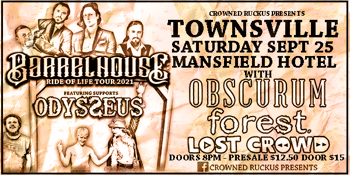 Crowned Ruckus Presents:
Barrelhouse 'RIDE OF LIFE' Tour
Supported by Odysseus
Mansfield Hotel (Townsville, QLD)
Saturday, 25 September 2021 8:00 PM
Barrelhouse is a Brissy swing-themed metal band. Swing and heavy metal aren't two genres that are normally associated with each other, but damn it, together they just work. Barrelhouse continues on where Nescient ended: when three members of death metal band Nescient decided that with the new direction they were heading, it didn't feel right continuing under their current name - so Barrelhouse was formed.
The band takes elements from Swing and Jazz, combining them with distorted guitars, heavy vocals and the occasional blast beat to create a familiar, nostalgic sound that is also fresh, exciting and above all, groovy! Barrelhouse is embarking on an East Coast tour in support of their recent single release 'RIDE OF LIFE'.

ODYSSEUS are no strangers to the road, continuing to hit hard, and playing shows all around the country. Hailing from the small SE QLD town of Bundaberg, the trio has continued to push forwards against all odds. Ranking somewhere in the Alternative genre, influences are drawn from many sources, including Rock, Jazz, Grunge, Electronica, and Rap, resulting in a delectable display of interpretation.

OBSCURUM is a heavy-metal outfit from North Queensland!

FOREST is a top-notch Prog from Cairns, sporadic, spacious, chaotic, atrocious, withering, reckless, energetic, careless, rancid, offensive, ambient, wretched.

LOST CROWD are a three-piece grunge/funk/rock band based in Townsville!